We're proud to welcome acclaimed writer, producer, broadcaster and architecture expert Frances Anderton as the newest member of the Modernism Week Board of Directors.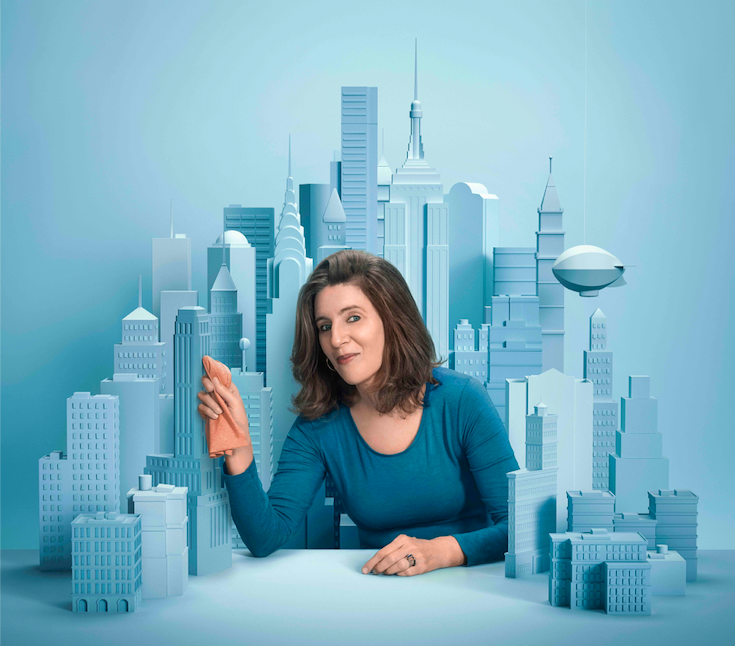 For many years Anderton hosted the "DnA: Design and Architecture" radio show on public radio station KCRW in Santa Monica. Prior to that she produced "To The Point" and "Which Way, LA?" hosted by Warren Olney, also for KCRW. She recently completed the production of "Wasted: Neat Solutions to the Dirty Problem of Waste," currently airing weekly on KCRW's Greater LA.
Anderton is writing a book, Common Ground: Multifamily Housing in Los Angeles, for Angel City Press. She co-produces independent podcasts including "Desert X" and "Rodeo Drive: The Podcast." She also programs talks and events at the Helms Bakery District in Culver City and has curated exhibitions including "Sink Or Swim: Designing For a Sea Change," about resilient architecture, shown in 2015 at the Annenberg Space for Photography.
Past books include Grand Illusion: A Story of Ambition, and its Limits, about LA's Bunker Hill, based on a studio she co-taught with Frank Gehry and partners at USC School of Architecture. She also wrote You Are Here – an exploration of the work of Jon Jerde, designer of Horton Plaza, Universal Citywalk and the 1984 Olympics.
Her many honors include the Esther McCoy 2010 Award for her work in educating the public about architecture and urbanism from USC School of Architecture's Architectural Guild. She was the SCI-Arc's "Honored Guest" at its 2018 MAIN EVENT and received the 2020 ICON Award from the Los Angeles Design Festival.
Read on for a special Q&A with the celebrated doyenne of design.
---
What does modernism mean to you?
FA: Modernism represented a break from the past, so at its best it means optimism and better living through design and innovation.
What makes Modernism Week's mission meaningful to you?
FA: The devotion and diligence of Modernism Week's founders and attendees to spreading the love for midcentury architecture and design is very meaningful. Passion is infectious.
What would you like to see Modernism Week explore, achieve or address in the future?
FA: While I love Modernist style, I respect the Modernist ethos of creating a better world for everybody. So I would like to support Modernism Week's commitment to its low-cost educational opportunities and to involving the Coachella Valley's diverse community in its programs and activities.
What have been some of your favorite Modernism Week moments through the years?
FA: Gosh, where to start…a party at the Elrod House. Supper, on arriving exhausted after a 5 hour drive to Palm Springs, with Mark Davis, William Kopelk and Moshe Safdie. Tours of Wexler homes and meeting Don Wexler. The illuminated Modernism Week logo on Palm Springs buildings. Interviewing Daniel Libeskind for Modernism Week. Watching the vintage cars go by. Early morning swims before the packed schedule kicks in. A dinner at the "The Ship of the Desert" with Trina Turk where we witnessed Jonathan Skow, aka Mr. Turk, the late and much-missed clothing designer, rush to the aid of a guest who was attacked by a centipede. Modernism Week is about the fabulous people who make it; and Jonathan was one of them.
Do you have an absolute favorite architect, house, or building in Palm Springs?
FA: Albert Frey and his home, bar none. I met Frey, then 94, at his house for a profile I wrote for the New York Times back in 1999. I was amazed by his simple glass-walled, corrugated roofed house rooted in the mountainside by its large boulder and with an infinite sense of space despite its tiny 16-by-32-footprint. As I wrote back then, "Albert Frey hates waste. He sees no need for water-hungry lawns or spacious homes… His principle in life and architecture, he explained, is to "do the most with the least."" That was Modernism at its finest. I also remember being amused at his twinkly charm with the ladies.
---